Practice the way you want
Work from anywhere, do less admin and get paid instantly* as a consultant solicitor at Lawhive Legal
Apply to join
Applying is completely free and takes under 5 minutes.
* You're paid the very same day you bill your client
Work your way
Our goal is simple - we want you to focus on the thing you love most, being a lawyer. We don't believe in dress codes, office hours, IT that doesn't work or having to chase us to get paid. What we do believe in, is happy and fulfilled lawyers delivering high quality legal work to their clients.
SRA licensed and authorised law firm and next generation tech platform
We're one of the fastest growing consultancy based law firms in the UK. We provide £3M professional indemnity insurance cover, a client money account, full admin support and everything else you'll need to practice.
Lawhive's platform combines a next generation CMS and client portal, and doesn't require any training or knowledge of technology to use. We can have you practicing within 3 hours of joining us. It's faster and easier than any CMS you've ever used!
Focus on the legal work
We offer full admin support - client onboarding, file opening, compliance checks, client money account, billing, credit control, plus we have a dedicated support team on hand to answer any questions within 1 hour.
No more chasing your firm for payment - get paid the same day you bill your client!
We'll even send you up to 30% extra work on top of your existing practice, in a feed of fully qualified, pre-paid instructions.
Who are we?
Lawhive combines a tech platform with a SRA regulated ABS law firm. We're the most most flexible, convenient and simple way for consultant solicitors to practice. We've helped thousands of clients and work with hundreds of solicitors across the UK.
We're a team of passionate tech and legal experts, backed by the same investors who previously started Zoopla and LoveFilm, and advised by former Executive Director of the SRA Crispin Passmore.
How does Lawhive work?
As a consultant solicitor, Lawhive combines the most modern tech platform with an SRA regulated law firm.
Lawhive takes care of all of the admin and gets you paid faster than any other law firm operating in the market today.
Work with your own clients, plus receive additional high-quality work from Lawhive

As your regulated firm, we'll onboard your clients, provide a client money account, handle all compliance work for you, deal with billing and make sure you get paid the same day the work is billed.

Work with your clients, with full admin support from the Lawhive team.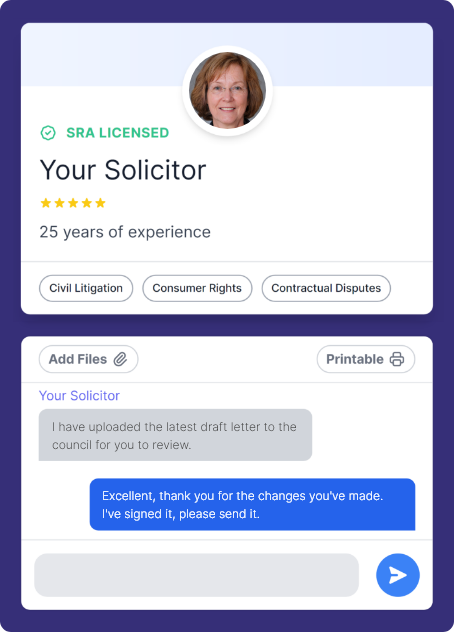 Full Admin Support
Our team and tech platform do the heavy lifting to onboard your clients and ensure your time is not spent on admin. Never struggle with compliance checks again.
We provide full printing and posting for court bundles and letters. Simply drag and drop and we send out same day.
Full access to HMCTS, HMLR and HMRC PBA and e-portals.
Instant Billing and Payments
Never wait for your firm to pay you again.
When you work through Lawhive, you're paid the same day you bill your client.
We handle client invoicing and credit control.
A dedicated support team to help you and your client
We deliver 5-star experiences for our consultant solicitors
"The systems have been fantastic!"
It's really efficient and makes life a LOT easier for fee-earners. Especially the client onboarding process. It's one of the best I've seen so far in 8 years as a solicitor!
- Lawhive consultant solicitor
"Oh it's much easier!"
… compared to Alpha Law, Mattersphere - they're all so complicated … if I have to go through three steps to add a note to review documents, I just won't do it.
- Lawhive consultant solicitor
Fastest growing firm, most competitive fee share
Join the fastest growing consultancy based law firm in the UK and access the most competitive fee share in the country.
We're shaping the future of law
Lawhive was founded by a team who are passionate about bringing the joy back into practising law.
We combine an SRA regulated ABS law firm with a next generation tech platform.
We're based in the UK and backed by leading investors, founders and executives who previously backed Zoopla, Monzo, Bloom & Wild, AllPlants, LoveFilm and Shazam. We're also advised by the former Executive Director of the SRA, Crispin Passmore.
We carefully select the solicitors who work through our platform to ensure they meet our high standards. We only work with the top 3% of solicitors in the UK.
Grow your practice and focus on what you love
Lawhive combines an SRA authorised law firm with a next generation digital platform.
We pride ourselves on helping consumers and small businesses get greater access to their legal rights.

Lawhive Ltd is not a law firm and does not provide any legal advice. Lawhive Ltd uses a network of licensed solicitors to provide legal work directly to clients through our online platform. Please read our Terms for more information.

Our network includes our affiliate company, Lawhive Legal Ltd. Lawhive Legal Ltd is authorised and regulated by the Solicitors Regulation Authority with ID number 8003766 and is a company registered in England & Wales, Company No. 14651095.

Lawhive Legal Ltd is a separate company from Lawhive Ltd.
© 2023 Lawhive
86-90 Paul Street, London EC2A 4NE
Version: b9b344c